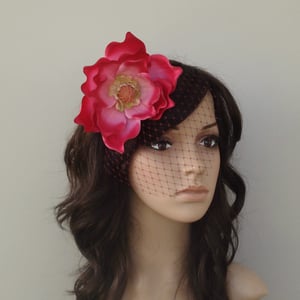 $

49.00
PLEASE NOTE: Thank you to all our beautiful customers; following a hectic Spring Racing Season our shop is currently closed as we will be on holidays from Oct 22 - Dec 7 and will be unable to ship orders or respond to emails until we return. By all means feel comfortable to make your purchases or send your questions in the mean time if you're not in a rush, and we will attend to you when we return!
Thank you, Linda & Chance : ) : )
Ready to Ship Today!
September/October 2009 Collection
Our new collection has just launched in preparation for the upcoming Spring Racing Carnival in Australia and Spring/Summer Weddings and we are head over heals with our new pieces, we hope you are too!
Featuring a beautiful big Magnolia flower in stunning magenta hues affixed to a wire comb with matching teardrop veil, this simple yet stunning piece will turn heads. We pride ourselves in hand sewing as many components as possible to ensure longevity and quality craftsmanship.
This is the only one of this colour and design in stock ready to go, don't miss out, first in best dressed!
AVAILABILITY & POSTAGE: Worldwide $5.50
Item ships from Australia so allow approx 3 days to addresses within Australia and approx 10 days shipping if being sent overseas.
QUESTIONS?
We welcome all questions and comments, Click Here
All prices in AUD$