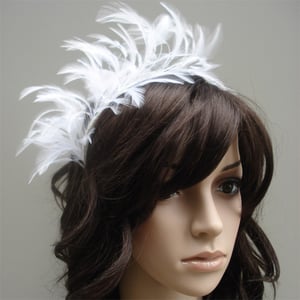 $

42.00
PLEASE NOTE: Thank you to all our beautiful customers; following a hectic Spring Racing Season our shop is currently closed as we will be on holidays from Oct 22 - Dec 7 and will be unable to ship orders or respond to emails until we return. By all means feel comfortable to make your purchases or send your questions in the mean time if you're not in a rush, and we will attend to you when we return!
Thank you, Linda & Chance : ) : )
Fun, elegant and glamorous all in one piece! A beautiful cluster of delicate feathers affixed to a fine metal headband, for a secure and all day comfortable fit for your Wedding or Special Occasion.
Looks stunning paired with our Blusher Birdcage veil (sold separately) as shown in picture 3.
COLOURS:
Available in numerous colours including, Aqua, Black, Cobalt Blue, Steely blue grey, Burgundy, Dusty Pink, Fuchsia, Grey Silver, Ivory, Olive, Soft Pink, Purple, Red, Teal, White. Colour Chart coming soon, please send us a message to request a picture of the colour/s your interested in.
AVAILABILITY & POSTAGE: Worldwide $5.50
This design is made to order, so once your purchase and payment have been received please allow 2-3 weeks for its construction. Item ships from Australia so allow approx 3 days to addresses within Australia and approx 10 days shipping if being sent overseas.
IN A RUSH?
Contact us now and let us know what colours you need this piece in and by when and we'll let you know if it can be done in time.
QUESTIONS?
We welcome all questions and comments, Click Here
All prices in AUD$