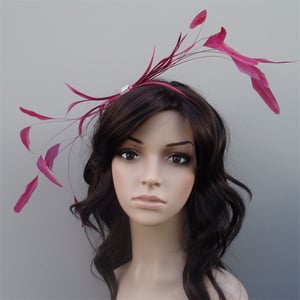 $

59.00
PLEASE NOTE: Thank you to all our beautiful customers; following a hectic Spring Racing Season our shop is currently closed as we will be on holidays from Oct 22 - Dec 7 and will be unable to ship orders or respond to emails until we return. By all means feel comfortable to make your purchases or send your questions in the mean time if you're not in a rush, and we will attend to you when we return!
Thank you, Linda & Chance : ) : )
September/October 2009 Collection
Our new collection has just launched in preparation for the upcoming Spring Racing Carnival in Australia and Spring/Summer Weddings and we are head over heals with our new pieces, we hope you are too!
We just LOVE this Ramona design, it's fun, flirty and secured to a headband so you can comfortably wear it all day and not worry about it shifting around! Made with clusters of stripped coque feathers and biots then finished with a nest of 9 hand strung rhinestone diamante monties in the center. We pride ourselves in hand sewing as many components as possible to ensure longevity and quality craftsmanship.
COLOURS:
Pictured in magenta, this design can be made in 28 feather colours (see chart). Please nominate your colour choice in the notes at checkout.
AVAILABILITY & POSTAGE: Worldwide $5.50
This design is made to order, so once your purchase and payment have been received please allow 2-3 weeks for its construction. Item ships from Australia so allow approx 3 days to addresses within Australia and approx 10 days shipping if being sent overseas.
IN A RUSH?
Contact us now and let us know what colours you need this piece in and by when and we'll let you know if it can be done in time.
QUESTIONS?
We welcome all questions and comments, Click Here
All prices in AUD$